Waves
Waves, in the midst of a large and wide canvas, brown waves come and go with pride, in a dance of rich and deep hues.
We discover the power of nature so raw and audacious, a symphony of shadow and light. Brown waves are a sight to behold in their indescribable beauty.
An abstract painting yet so real and a treasure of emotions to feel.
Waves is part of selection of Contemporary art curator for " 100 Artists of the year"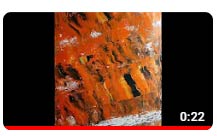 Acrylic on canvas, dimensions 150 x 100 x 3 cm.
Delivered with a Black wooden frame.
Sold with invoice and certificate of authenticity
July 2019
Waves,
waves est une représentation aérienne des vagues viennent se briser sur la côte.
Oeuvre originale signée P. Joosten. Waves is part of the selection " 100 Artists of the Future"
Acrylique sur toile, dimensions 150 x 100 x 3 cm. Livrée avec un cadre de type caisse Américaine en bois blanc.
July 2019