Manarola
Manarola, an abstract painting that captures the essence of a hilltop of an Italian village in the Cinque Terre region. In this work Patrick Joosten offers us a vision of beauty in a riot of colors, a tapestry of light, with ocher and terracotta, yellow and green, all merging into one glorious scene.
Manarola, a painting that gives life, a work that evokes the senses, and transports us to a marvelous world.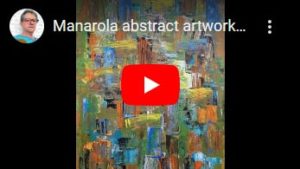 Original artwork signed P. Joosten
Acrylic on canvas
Dimensions 115 x 75 x 3 cm.
Delivered with a white wooden frame.
Sold with invoice and certificate of authenticity
2019 – September 16th