Émeraudes
Emeraudes by Patrick Joosten is a mesmerizing symphony of green colors and shapes, a canvas that draws the viewer in with its intricate layers and ethereal beauty.
Soft, dreamlike hues of green and blue dance across the surface, intertwining and blending in soft, fluid motion. The rich, velvety texture of the paint invites the eye to explore every subtle nuance and every delicate detail draws attention and captures the imagination.
Through "Emeralds", Patrick Joosten has created a captivating work of art that speaks to the senses and moves the soul, a testament to the power and beauty of Abstract Expressionism. It is a painting that lingers in the mind, like a fleeting dream.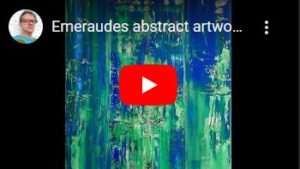 Original artwork signed P. Joosten
Acrylic on canvas
Dimensions 100 x 80 x 2,5 cm.
Sold with invoice and certificate of authenticity
June 2019