Variation chromatique
Variation chromatique, in the middle of Patrick Joosten's "Variation Chromatique" canvas, a breathtaking world unfolds in a mesmerizing dance of hues, where colors mix and swirl.
The colors weave a tale, a story of contrasts, passion and unveiled serenity. Patrick Joosten's vigorous and free brushstrokes create a canvas that speaks to the soul, inviting us to gaze.
"Chromatic Variation" is a symphony of colors and light, a poetic work that immerses us in our thoughts.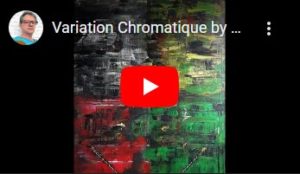 Original artwork signed P. Joosten
Acrylic on canvas
Dimensions 120 x 80 x 3 cm
Delivered with Black wooden frame.
Sold with invoice and certificate of authenticity
October 2018