Ultramarine
For this artwork I used the Ultramarine deep Blue and different colors of blue, enhanced by touches of Orange and White to offer an original abstract composition.
Ultramarine pigment which was originally made by grinding Lapis Lazuli into a powder. These pigments were imported into Europe from Afghanistan mines by Italian traders from the 14th centuries. At that period of time these pigments was considered more precious than gold!.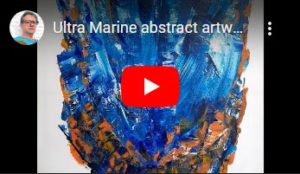 Original artwork signed P. Joosten.
Acrylic on canvas, dimensions 95 x 95 x 3 cm. Delivered with a Black wooden frame.
Sold with invoice and certificate of authenticity
2021 – April 07th.