Les Eaux Bleues
Amidst the vast expanse of the canvas, a world of wonder blooms, where azure blue waters ebb and flow with their secrets. "Les Eaux Bleues", a hymn to liquid grace, where currents dance and swirl with a quiet and fluid rhythm.
Blue hues speak of depth and calm, of unfolding mysteries, as ripples catch the daylight and spread across the world. Yet there is a restlessness lurking beneath the surface glow, it is perhaps a painting intended to make us sign to cross the step, to find the truths there.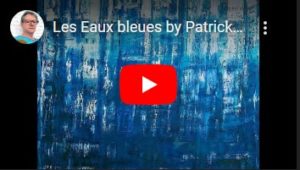 Original artwork signed P. Joosten at the front and at the back.
Acrylic on canvas
Dimensions 95 x 95 x 3 cm.
Delivered with a White wooden frame.
Sold with invoice and certificate of authenticity
2021 – May 26th.