The Blue Thing
The Blue Thing, In its simplicity, "The Blue Thing" by Patrick Joosten offers us the clarity and beauty that we are looking for. In the silence of the gallery walls, a canvas hangs, as if calling to those who pass by with curious eyes to ponder its abstractness.
Because in its shades of azure blue, we find a place of peace, a space to revel in the secrets of an unknown tale. So let's stand in front of the artwork and immerse ourselves in bliss, and enjoy the sweet kiss of "The Blue Thing".
The Blue Thing is in page 54 of the Spotlight magazine N°20 of Circle foundation for the Arts.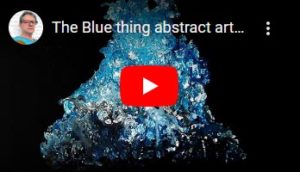 Original artwork signed P. Joosten at the back.
Acrylic on canvas
Dimensions 100 x 73 x 2.6 cm.
Sold with invoice and certificate of authenticity
05th of August 2020