This is PARIS
This is Paris, Patrick Joosten makes us discover the city where he was born and where he grew up. On the canvas appear the faces of two young Parisian fashion enthusiasts on the French tricolor flag. In the background, the emblematic monuments of Paris follow one another in a discreet crown; The Eiffel Tower erect and proud, the Arc de Triomphe in its shadow, Notre-Dame de Paris, the elegant and refined Haussmann buildings and the typical roofs of Paris.
All gathered as in a tribute to the city of light.
"C'est Paris", is an original work that Patrick Joosten offers us and an immersion in his city and in his life.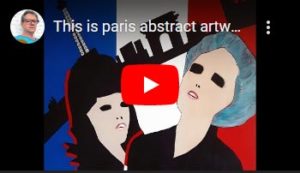 Original artwork signed P. Joosten.
Acrylic on canvas
Dimensions 90 x 90 x cm.
Delivered with a Black wooden frame.
Sold with invoice and certificate of authenticity
2020 May 16th.