Flamingos
Flamingos by Patrick Joosten brings us to the middle of a calm blue sea with its reflections of the sun. From there arises a vision like a fiery mirage of Flamingos, graceful and grandiose.
The canvas offers us a unique work of color, form and technique.
Flamingos are in their world in a symphony of hues, bringing us a fleeting moment in a dreamy haze.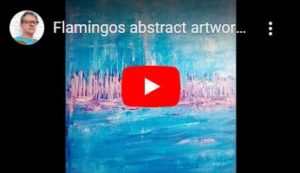 Original artwork signed P. Joosten
Acrylic on canvas,
Dimensions 80 x 60 x 3 cm, comes with white wooden frame.
Sold with invoice and certificate of authenticity
August 2018