Believe creativity is a
Gift_
Stripes on a Red Moon
A canvas of abstraction, a visual melody of bold lines in a mesmerizing dance of white stripes on a Red and Blue moon.
The blue background, a huge and endless sea speckled with bright stars and free.
In this painting, colors and lines come together and tell a story, a world of wonder, a land of dreams so true.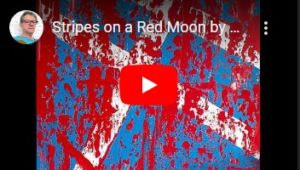 Original artwork signed P. Joosten at the front and at the back.
Acrylic on canvas, dimensions 95 x 95 x 4 cm.
Sold with invoice and certificate of authenticity
2022 – September 08th
Info