Believe creativity is a
Gift_
Stripes on a Blue Moon
A canvas of abstraction, a visual melody of bold lines in a mesmerizing dance of white stripes on a blue and yellow moon.
The blue background, a huge and endless sea speckled with bright stars and free.
In this painting, colors and lines come together and tell a story, a world of wonder, a land of dreams so true.
Patrick Joosten abstract French painter is Star of the week presented by ARTTOUR INTERNATIONAL, the Star of the week Award pays tribute to the artist's career, celebrates artistic excellence, and raises international awareness of contemporary creative talent.
– My artwork Stripes on a Blue Moon is part of the selection Collectors Art Prize Winner 2023
– My artwork Stripes on a Blue Moon is on page 84 of Spotlight Magazine issue 32 by Circle Foundation for the Arts. Spring 2023. https://circle-arts.com/spotlight-32/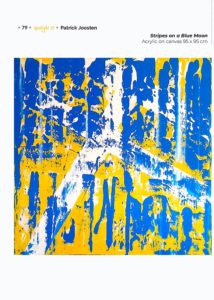 Original artwork signed P. Joosten at the front and at the back.
Acrylic on canvas.
Dimensions 95 x 95 x 4 cm.
Sold with invoice and certificate of authenticity
2022 – August 28th
Info