Paradiso
"Paradiso" by Patrick Joosten is an artistic evocation of Paradise. A symphony of soft, pastel hues that transports the viewer into a world of serene beauty. Ethereal colors dominate the canvas, creating a feeling of serenity and tranquility that invites contemplation.
Intertwined with these delicate nuances are sporadic bursts of bright colors, reminding us of the living moments that punctuate the calm of paradise.
"Paradiso" is a testament to the artist's ability to capture the essence of a celestial realm through a carefully orchestrated palette, where delicate pastels create a mood of peace and bright colors infuse the scene with moments of dynamism and of happiness.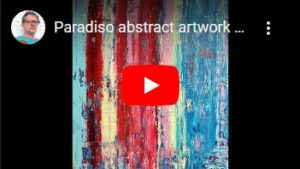 Original artwork signed P. Joosten at the front and the back.
Acrylic on canvas, dimensions 115 x 80 x 4 cm.
Sold with invoice and certificate of authenticity.
Delivered with a white wooden frame.
2023 – October 20