Trilogy – Nature
Patrick Joosten's Trilogy is a captivating abstract work that seamlessly blends three distinct levels of color gradients.
The upper part envelops us in a serene expansion of deep blues, evoking the immensity of the open sky. At its center, a radiant field of yellows unfolds, reminiscent of the warm embrace of the sun, filling the canvas with radiant energy. As your gaze descends, the lower part draws us into a world of rich red tones, reminiscent of the Earth's fiery core.
Together, these three kingdoms of color weave a narrative of the ever-evolving essence of nature, inviting us to explore the depths of emotion and the interconnectedness of the elements.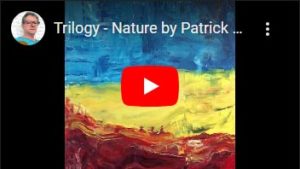 Original artwork signed P. Joosten at front and at the back.
Acrylic on canvas, dimensions 85 x 65 x 4 cm.
Sold with invoice and certificate of authenticity.
Delivered with a white wooden frame.
2023 – September 03