Marilynne
Marilynne, This portrait of Marilynne by Patrick Joosten in a Pop Art style is a vibrant and eye-catching work of art. Marilynne is depicted wearing large glasses that cover much of her face, adding a playful and mysterious quality to the work.
The neon yellow and pink background creates a vibrant and energetic vibe. The colors seem to pulsate and vibrate, almost as if alive.
Overall, this portrait of Marilynne is a celebration of color and energy. It captures the fun and playful spirit of Pop Art while alluding to a deeper sense of mystery and intrigue.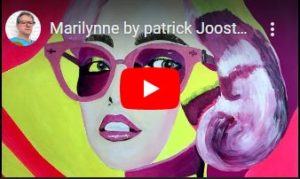 Original artwork signed P. Joosten at the back.
Dimensions 85 x 65 x 4 cm.
Sold with invoice and certificate of authenticity
2023 – May 04.