Joy
In Patrick Joosten's "Joy", there is a painting that captures the heart and the mind. The colors dance and mix with ease, Orange, Red, blues and Yellows bring warmth and energy like a joyful beat.
Joy, you are a work of Art that will never cease to light up our lives and bring true joy.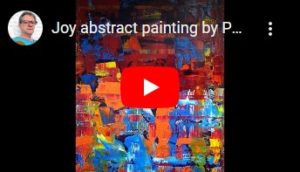 Original artwork signed P. Joosten
Acrylic on canvas
Dimensions 115 x 75 x 3 cm.
Delivered with a black wooden frame.
Sold with invoice and certificate of authenticity
2021 – January 06th