Colors Symphony
In "Colors Symphony", Patrick Joosten's canvas sings with colors that dance and twirl on lively wings. A symphony of colors, vibrant and daring, each shade of which plays its part in an unprecedented story.
The canvas with energy, movement and life with abstract shapes joyfully merge in a kaleidoscope of colors, wild and free.
"Colors Symphony" is a composition of hues that fascinates, giving free rein to a masterful creation.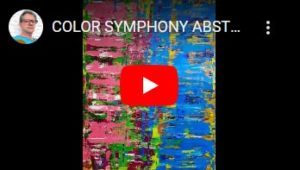 Original artwork signed P. Joosten.
Acrylic on canvas
Dimensions 170 x 100 x 3 cm.
Delivered with a black wooden frame.
Sold with invoice and certificate of authenticity
2021 – January 20nd