Symphony
The canvas in front of you is a breathtaking work called "Symphony" by Patrick Joosten. The painting is an abstract composition of colors, shapes and textures that seem to harmonize with each other, evoking a sense of wonder and awe.
The texture of the paint is rich and varied, with thick, slurred strokes juxtaposed with a smooth, delicate brushstroke. The layers and depth of the paint create a sense of mystery and intrigue, inviting the viewer to get lost in its intricate and hypnotic design.
Symphony is a work that is a testament to the power of art to stimulate the imagination and evoke emotion.
Excellence Award obtained from Circle Foundation for the Arts with my work "Symphony". May 2021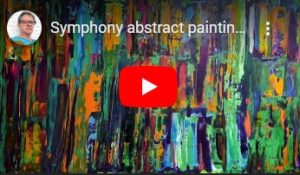 Original artwork signed P. Joosten.
Acrylic on canvas
Dimensions 170 x 100 x 3 cm.
Delivered with a black wooden frame.
Sold with invoice and certificate of authenticity
2021 – March 29th