Variation en Jaune
Variation en Jaune, the canvas is animated with a vibrant energy that bursts with the radiance of the sun. The hues of red and golden yellow dance and play together, their colors intertwining and blending into a dynamic composition at both exhilarating and harmonious.
As the eye travels across the canvas, it is taken into a world of pure abstraction, where color and form are freed from the constraints of the physical world.
Through his artistry, Joosten has created a work that speaks to the transformative power of color and form bringing order and harmony that can only be found in the art world.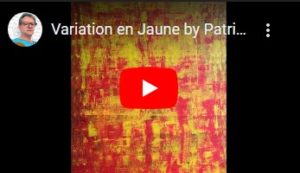 Original artwork signed P. Joosten
Acrylic on canvas
Dimensions 120 x 80 cm
Delivered with a Black wooden frame.
Sold with invoice and certificate of authenticity
September 2017