Ultimate
In "Ultimate," a fiery canvas blazes before our eyes, with fiery red providing a fierce display representing the artistic style of Patrick Joosten. From the depths of scarlet red passion, to the heights of crimson power, this piece inspires a bold reaction, a challenge to simple mortal audacity.
The abstract shapes dance and spin in a hypnotic, pure and wild rhythm, as if the canvas were an inner portal to a new universe.
In "Ultimate", Joosten dares to create a world where color reigns supreme, where red takes on such great life.
This work requires attention and admiration, testimony to the artist's know-how.
Ultimate is part of the Online Exhibition Infinite Dreams by Contemporary Art curator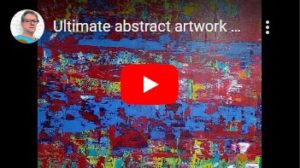 Original artwork signed P. Joosten on front and at the back.
Acrylic on canvas
Dimensions 95 x 95 x 3 cm.
Delivered with a black wooden frame.
Sold with invoivce and certificate of authenticity.
2020 – December 21st