Believe creativity is a
Gift_
Ocher
An abstract canvas which is an untold story, a painting which speaks, which whispers, which captures the eye, the heart, the soul.
A work of art that deploys natural hues that never die, ocher speaks of the earth so ancient, an earthy color, warm and bold, dark blue sings the sky with such free strokes.
Ocher is part of the selection of the PIAB 2021

Ocher is part of th Online Exhibition Infinite Dreams by Contemporary Art curator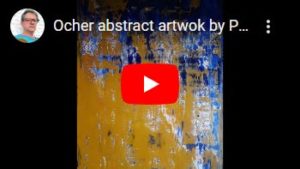 Original artwork signed P. Joosten
Acrylic on canvas
Dimensions 115 x 75 x3 cm
Delivered with a black wooden frame.
2020 – December 12th
Info