Tropical Sea
Tropical Sea, Patrick Joosten has created a mesmerizing piece of abstract art that evokes a breathtaking aerial view of a tropical paradise. The canvas is awash in a vibrant palette of blues and greens, with swirling brushstrokes that capture the ebb and flow of ocean waves.
"Tropical Sea" conveys a sense of harmony and balance, as if the natural world is in perfect balance. It is a magnificent tribute to the beauty and majesty of nature.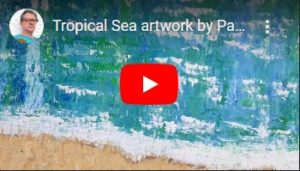 Original artwork signed P. Joosten.
Acrylic on canvas
Dimensions 150 x 100 x 3 cm.
Delivered with a white wooden frame.
Sold with invoice and certificate of authenticity
2020 – January 22nd.