Tropical Flowers
Tropical flowers, with such luminous shades, a riot of colors, a bewitching spectacle. Like a sunny day, in a distant land, the painting captures the essence of happiness, an oasis of beauty, in a broken world.
Each brushstroke offers a dance of energy in which the flowers seem to sway and dance in an endless timeless trance.
A canvas of dreams, a sweet liberation.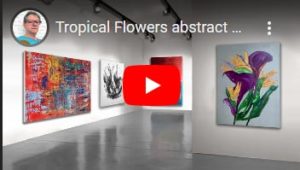 Original artwork signed P. Joosten at the back.
Dimensions 115 x 80 x 4 cm.
Sold with invoice and certificate of authenticity
2023 – February 07th.