Triptych
Triptych, here is the abstract canvas, a triptych flooded with a chromatic mixture. The vision of an abstract painter, an essential work of art.
In the first panel, a bold splash of red, a burst of fierce fire, a vibrant clash followed by a blaze of orange light, a burst of energy, a flame that ignites with fiery passion.
Together, these three panels create a symphony of color, a visual debate that speaks to the soul.,
A painting that is bigger than its parts, a whole.
Triptych était exposée au Salon Art Shopping au Carrousel du Louvre par Galaxy Art.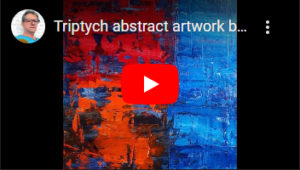 Original artwork signed P. Joosten.
Acrylic on canvas.
Dimensions 90 x 70 x 3 cm
Delivered with a white wooden frame.
February 2019