The Lost City
The Lost City, in the middle of a canvas of golden hues, hides a lost and true city. Tall towers and buildings clad in blue flirt with a yellow sky.
"The Lost City", once a place where dreams and hopes converged, where every soul flourished, now lies in its ruins. And yet, amidst this solemn scene, there is a glimmer of hope, for in this lost city there is still a chance for renewal.
So let's look at this work of art and its message of hope and renewal towards a better world.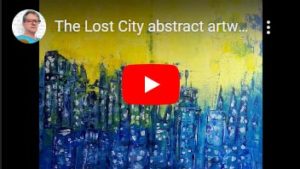 Original artwork signed P. Joosten
Acrylic on canvas
Dimensions 100 x 100 x 3 cm.
Delivered with a wooden frame.
Sold with invoice and certificate of authenticity
January 2019