Believe creativity is a
Gift_
Surf
"Surf" undulates and swells in a rhythmic dance, the orange hues washing the abstract seas in a fiery tone. A masterful line, a bold display, the creation of Patrick Joosten bursts into full canvas.
Movement and stillness in perfect harmony, Surf captures the essence of the ocean trend.
So take a moment, let Surf transport you to the boundless sea and its infinite air in which Patrick Joosten's work takes you.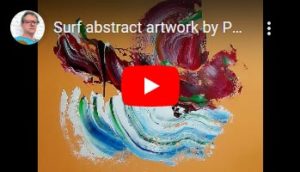 Original artwork signed P. Joosten at the front and at the back.
Acrylic on canvas
Dimensions  95 x 95 x 3 cm.
Delivered with a White wooden frame.
Sold with invoice and certificate of authenticity
2021 – October 06th
Info