Believe creativity is a
Gift_
Roller
"Roller", by Patrick Joosten, is a portrait of movement and energy, a flashing and pulsating beacon of movement and momentum. From the lines and shapes of this abstract work arise the paths of a skater as they dash and weave through space.
Each brushstroke is alive with the thrill of the ride, the rush of the wind against the skin, the beating of the heart in the chest. "Roller" is a celebration of life in motion, a tribute to the power and grace of the human body as it moves forward, propelled by the twin engines of passion and joy.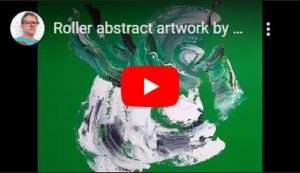 Original artwork signed P. Joosten at the front and at the back.
Acrylic on canvas
Dimensions  95 x 95 x 3 cm.
Delivered with a Black wooden frame.
Sold with invoice and certificate of authenticity
2021 – September 17th
Info