Quietude
Quietude is a canvas bathed in ethereal hues, a dreamlike journey, a world beyond our eyes, a visual anthem, a peaceful getaway. In the middle of the canvas, a quiet respite,
A moving stillness, a mystical delight.
A living canvas, an untold story, a poetic vision, a sight to see. A clever mix of colors, a window on the soul, a mirror on the spirit, a beneficial peace of mind, a moment of relaxation.
In "Quietude" by Patrick Joosten offers us such a rare painting, a work that only Artabstrait can offer us.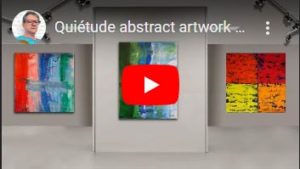 Original artwork signed P. Joosten
Acrylic on canvas
Dimensions 80 x 60 x 3 cm.
May 2019
Info
Client: