Paris – Grand Palais sous la neige – Hiver 2018
Paris – Grand Palais sous la neige – Hiver 2018
Paris – Grand Palais sous la neige – Hiver 2018, Patrick Joosten offers us a Parisian scene with the Grand Palais standing tall and proud, as the snowflakes gently fall and rush.
In this abstract work, the scene is serene, as snow covers the stage of the Grand Palais and the sky embraces it in shades of gray mingling with the snow.
In "Paris – Grand Palais under the snow", Patrick Joosten captured a moment in time of life in Paris.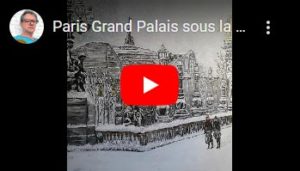 Original artwork signed P. Joosten
Acrylic on canvas
Dimensions 120 x 80 cm.
Sold with invoice and certificate of authenticity
February 2018