Nuages
Nuages by Patrick Joosten is an invitation to us into a dreamlike and ethereal world, where the sky comes alive with a captivating play of blue, orange and white hues.
Looking at this abstract work, we are immediately struck by how the colors seem to dance and swirl together, evoking the playful movements of clouds on a sunny day.
This artwork makes us feel the textures and movement of colors as they mix and merge.
"Nuages" is an amazing and captivating work of art, inviting us to let go of our worries and lose ourselves in the beauty of the moment.
This canvas has been choosen by Estiara Milano to make the Glass Frame "catwalk Dune 82"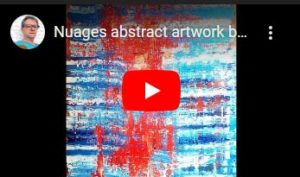 Original artwork signed P. Joosten,
Acrylic on canvas,
Dimensions, 120 x 90 x 3 cm, 124 x 94 cm with wooden frame.
Sold with invoice and certificate of authenticity
April 2018