Love is in the air
Love is in the air, When contemplating the work of Patrick Joosten "Love is in the air", you are struck by the liveliness of the colors which seem to spring towards you. The canvas is awash in Red, Orange, Yellow and Blue hues that blend together in a mesmerizing display of color and emotion.
Reds and Oranges are deep and rich, evoking passion and intensity. They swirl and flow across the canvas, alluding to the fiery nature of love itself.
"Love is in the Air" is an incredibly beautiful and emotionally resonant work of art of intense passion and optimism.
It is a work that speaks directly to the heart and reminds us of the many ways love can touch our lives..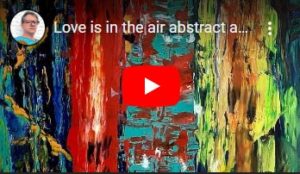 Original artwork signed P. Joosten on the front lower right and at the back.
Dimensions 115 x 80 x 4 cm.
Sold with invoice and certificate of authenticity
2023 – April 04.