Just Blue
Just Blue by Patrick Joosten is a fascinating abstract work that effortlessly captures the essence of the color blue. The painting is a swirling canvas of blue brushstrokes that dance across a pristine white background, creating a captivating sense of movement and fluidity.
One can't help but feel a sense of peace and tranquility wash over us when gazing at the serene beauty of "Just Blue."
The painting is a testament to Patrick Joosten's talent and his ability to capture the essence of an emotion in his art.
"Just Blue" is a stunning example of the power and beauty of abstract art, and a true testament to the creative genius of Patrick Joosten.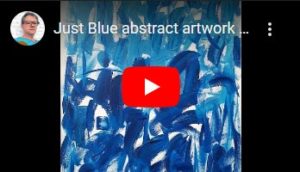 Original abstract minimalist artwork signed P. Joosten.
Acrylic on canvas
Dimensions 100 x 80 x 3 cm.
Delivered with a White wooden frame.
April 2019