Brumes Oceanes
Brumes Oceanes by Patrick Joosten is an ethereal work that transports the viewer to a world of misty oceans made of mysterious horizons. The painting invites you to get lost in its abstract forms, with layers of colors and textures that seem to blend and blend, like the ebb and flow of waves.
By contemplating "Ocean Mists", we are immersed in the universe of sailors, and we feel their fears and their anxiety, but also their joy of going to sea.
It is a hauntingly beautiful piece that captures the essence of vastness, and the depth of the ocean in a way that only art can provide.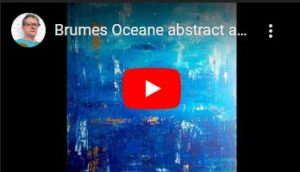 Original artwork signed P. Joosten
Acrylic on canvas.
Dimensions 120 x 90 x 3 cm, 125 x 95 cm with frame.
Sold with invoice and certificate of authenticity
July 2018