Believe creativity is a
Gift_
Desire of Gold
In Desire of Gold, Patrick Joosten's abstract canvas bursts into a flurry of radiant hues and amorphous forms, like a molten river of metallic gold, flowing and pulsing with energy.
The intricate patterns and interlocking lines evoke a feeling of fluidity and movement, as if the paint is entering a cosmic dance.
So let's bask in the brilliance of "Desire of Gold", and let our own desires ignite in its contemplation.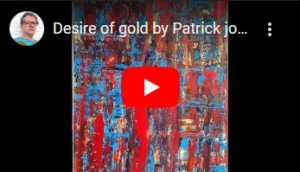 Original artwork signed P. Joosten at the front and at the back.
Acrylic on canvas
Dimensions 115 x 80 x 3 cm.
Delivered with a Black wooden frame.
Sold with invoice and certificate of authenticity
2021 – August 30th
Info