Bleu Cobalt
Bleu Cobalt is an abstract work by Patrick Joosten in which the canvas seems alive with shades of blue, serene in a sea of cobalt blue, deep and endless. Each brushstroke is a story of indefinite emotions opening its doors to a journey into the unknown, a quest for being. In this ethereal realm, time and space dissolve in a surreal dance, where light and shadow play in a symphony of blue.
Cobalt Blue is a window to infinity, a work of art that captures the essence of time, a canvas that invites meditation.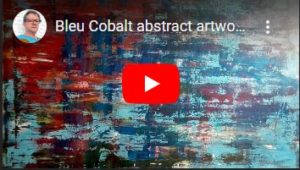 Original artwork signed P. Joosten.
Acrylic on canvas
Dimensions 120 x 80 x 3 cm.
Delivered with a Black wooden framework.
Sold with invoice and certificate of authenticity
September 2018