Betty
Betty by Patrick Joosten is a vibrant Pop Art representation.
In this captivating work, a young woman takes center stage, her glossy black hair cascading down, framing a face adorned with mesmerizing blue eyes. The artist masterfully captured her look, accentuating her beauty with a stunning sparkling necklace.
Her dress is adorned with a dazzling array of pearls, exuding both charm and sensuality. This Pop Art work brings together bright colors, intricate details and a touch of glamour, inviting viewers to immerse themselves in Betty's world.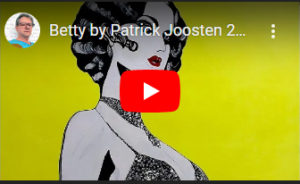 Original artwork signed P. Joosten at the back.
Acrylic on canvas, dimensions 85 x 65 x 4 cm.
Sold with invoice and certificate of authenticity.
Delivered with a white wooden frame.
2023 – September 20 th