Acqua Azzura
Acqua Azzura, a canvas of serenity, with hues that undulate like a tranquil waterfall. A palette of blues, from the palest blue to the deepest blue. Water flowing like an ephemeral dream that cannot be kept.
Acqua Azzura, a painting that tells a story, a symphony of colors that whisper beauty and mystery to you.
Merit Prize Award delivered by Art Show International for participation Abstract Art 2021 contest with "Acqua Azzura.
We're delighted to bring you the exciting news that your artwork "Acqua Azura" submitted to Art Show International's ABSTRACT has won the JOINT MERIT PRIZE AWARD in our PAINTING category, alongside two other distinguished artists. With our gratitude, please find attached your Merit Prize Award Certificate to prominently display and add to your artistic achievements.
Merit Prize by Art Show International February 2021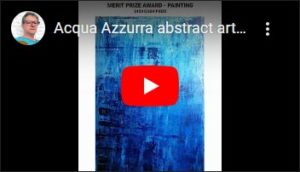 Original artwork signed P. Joosten.
Acrylic on canvas
Dimensions 120 x 80 cm, 128 x 88 cm
Delivered with a white wooden frame.
Sold with invoice and certificate of authenticity
March 2018