Wonder
To achieve this work I use several techniques. First of all, I made a rather complex background made of several successive layers of paints after drying. Then, on one half of the canvas I applied a thick pass of paint in orange and yellow tones and sprayed water on these colors to create a dripping effect on the remaining existing background to obtain this very particular effect of melted colors to get this stunning result.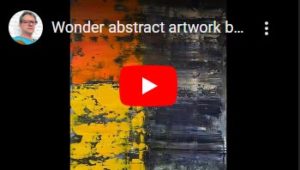 Original artwork signed P. Joosten at the front and at the back.
Acrylic on canvas, dimensions 115 x 80 x 3 cm. Delivered with a Black wooden frame.
Sold with invoice and certificate of authenticity
2021 – June 14th.