Believe creativity is a
Gift_
Sunny Day
A burst of color on a luminous canvas, a joyful expression, a world of warmth and happiness, a Sunny Day captured, suspended in the air. Yellow, like the rays of the sun, shades of blue like the skies so clear, Green like the earth so dear.
A living canvas of such a free spirit, a sunny day, in all its majesty.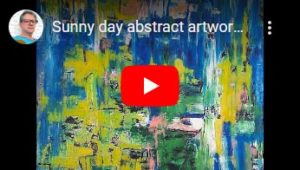 Original artwork signed P. Joosten at the front and at the back.
Acrylic on canvas
Dimensions  95 x 95 x 3 cm.
Delivered with a Black wooden frame.
Sold with invoice and certificate of authenticity
2022 – February 19th
Info