Romance
As I watch "Romance", I am struck by the ethereal quality of the abstract shapes dancing across the canvas. At the heart of the painting, the nuances mix and intertwine, forming sinuous shapes that seem to twist with emotion.
However, despite the complexity of the work, there is a harmony in the composition of "Romance". Each element of the painting contributes to a larger whole, creating a sense of unity and balance.
With "Romance" Patrick Joosten offers us a celebration of the beauty and complexity of love.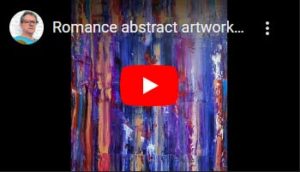 Original artwork signed P. Joosten.
Acrylic on canvas
Dimensions 115x 80 x 3 cm.
Delivered with a black wooden frame.
Sold with invoice and certificate of authenticity
2021 – February 21st