Reflection
Reflection, a canvas of abstract delight, an invitation to daydream. A poetic work that transcends simple artifice with its bronze yellow reflections, these shades of blue and emerald hues offering a vibrant mix.
Golden yellows mingle with ochres and burnished bronzes, creating an otherworldly depth, like a dreamlike response.
With each glance at this abstract work you enter a world of contemplation and reflection, a grandiose vision, which speaks of the artist's intention.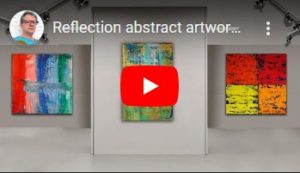 Original artwork signed P. Joosten,
Acrylic on canvas.
Dimensions 115 x 75 x 3 cm.
Delivered with a black wooden frame.
Sold with invoice and certificate of authenticity
2020 February 24th