Polychrome
Polychrome, As I watch "Polychrome", I am mesmerized by the vivid brilliance of colors dancing across the canvas. Each brushstroke seems to tell a story, a story of emotions and passions as complex and layered as the painting itself. The work exudes a sense of harmony and balance, a delicate interplay of light and dark, form and space, which gives the painting a timeless quality.
In "Polychrome", Patrick Joosten has captured the essence of pure abstraction, using color and form to create a visual language that speaks directly to the soul.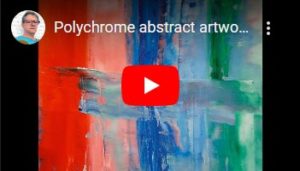 Original artwork signed P. Joosten
Acrylic on canvas
Dimensions 100 x 100 x 3 cm.
Sold with invoice and certificate of authenticity
May 2019