Mist
Mist, in this Patrick Joosten's artwork a veil of ethereal vapors drifts and dances in a serene and surreal symphony. An amorphous and nebulous mist, swirling and moving like a bit of a dream, draws the viewer into a hypnotic trance, where time and space lose their hold.
The artist's delicate and intricate brushstrokes, soft hues and subtle textures create a delicate balance of harmony.
In this abstract world, the lines between reality and fantasy blur, and the mist becomes a gateway to a mystical realm of endless possibilities.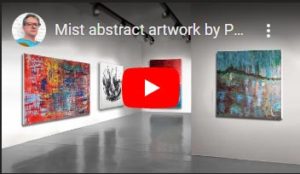 Original artwork signed P. Joosten
Acrylic on canvas,
Dimensions 80 x 80 x 3 cm.
Sold with invoice and certificate of authenticity
Juin 2019