Kareen J.
Kareen J. by Patrick Joosten is a marvel of pop art style. A young blonde beauty in the strength of her youth sprawls smiling across the canvas with bold features in a fair pose against a vibrant Red backdrop.
It is a living canvas, with emotions that support a powerful mix and a unique discourse.
A work of art that is so cool.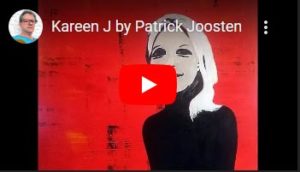 Original artwork signed Patrick Joosten
Acrylic on canvas
Dimensions 100 x 100 cm
Sold
November 2017