I see you
A canvas flooded with pastel shades, whimsical lines in an abstract design. Two piercing eyes that attract you, a look that lingers on the viewer in a bewitching smile, like a request for subtle conversation.
"I See You" whispers the painting, in a world of hues and shades to establish a connection like an unbreakable bond.
So let your eyes explore the scene.
Winner Award issued by ARTAVITA – November 2021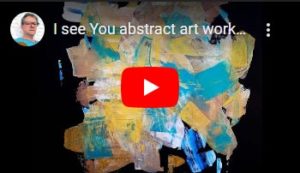 Original artwork signed at the back P. Joosten
Acrylic on canvas
Dimensions 100 x 100 x 4 cm.
Sold with invoicve and certificate of authenticity
2020 July 23rd