Constellation
Patrick Joosten's abstract work Constellation is a captivating visual symphony.
Colors in pastel tones merge with subtle harmony in a bold artistic ballet where a multitude of hues blend dynamically.
The chromatic landscape is hauntingly complex, giving rise to a visual depth that evokes both the profusion of nature and the richness of nature.
This fusion of colors, like an eternal dance, plunges us into a world where complexity becomes poetry, thus revealing the artist's depth and expressiveness.
Circle Foundation for the Arts – July 2023 – Artistic Excellence certificate for his artwork Constellation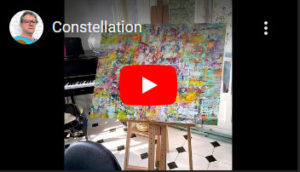 Original artwork signed P. Joosten on the front lower right and at the back.
Dimensions 115 x 80 x 4 cm.
Sold with invoice and certificate of authenticity
2023 – May 21