The canvas in front of you is a superb demonstration of monochromatic mastery, named "Black and White" by Patrick Joosten. The painting is a study in contrast, with stark and striking black and white tones creating a bold and dramatic composition. The painting is an abstract expression of light and dark. The brush strokes in the paint are deliberate and intentional, each mark and line adding to the intricate web of patterns and shapes that make up the composition.
In "Black and White", Patrick Joosten has created a work of art that is both thought-provoking and visually stunning, a testament to the power of simplicity and the beauty of contrast.Second part of the
Black & White Part I & II Have been selectionned by Grey Cube Gallery to be part of the 2022 Black & White online art show!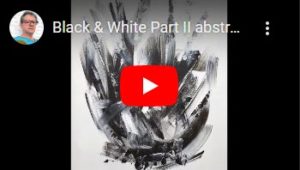 Original artwork signed P. Joosten.
Acrylic on canvas
Dimensions 115 x 80 x 3 cm.
Delivered with a Black wooden frame.
Sold with invoice and certificate of authenticity
2021 – March 16th